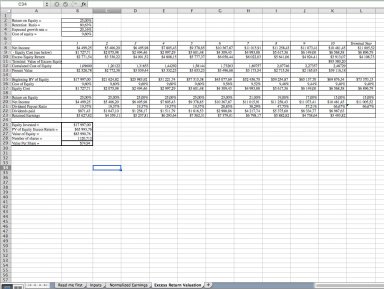 Value of Equity in a Bank
Estimate the value of equity in a bank
Prof. Aswath Damodaran offers you this Best Practice for free!
download for free
Add to bookmarks
Further information
The objective of this model is to get the following output values:
- Equity Invested
- PV of Equity Excess Return
- Value of Equity
- Value Per Share

1. The firm is expected to grow at a higher growth rate in the first period.
2. The growth rate will drop at the end of the first period to the stable growth rate.
3. The dividend payout ratio is consistent with the expected growth rate.