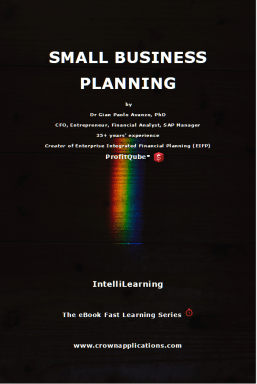 Small Business Planning
An easy guide which helps non-professionals to learn how to write financial projections easily and efficiently.

by Dr. Gian Paolo Avanzo
Founder and CEO at Crown Consultancy Services Ltd, I worked as CFO and SAP senior FICO/Project/Transformation manager worldwide. I am committed to inspiring awareness of Best Planning Practices.
Follow 16
Description
I have made an easy, practical and useful guide by combining and applying my many years of experience in its content.

The idea behind this book is to provide entrepreneurs who run small and medium businesses a practical handbook on how to use financial projections to lead their growth.

This is also a useful reference for professionals who want to keep in their virtual pockets an easy companion and it will help them make financial content understandable for their clients and aid in preparing financial projections, business planning or scenario analysis.

This book suggests what planning is and the advantages it can bring to medium and small businesses.

I will also depict a planning road map describing all the major milestones like where to start from, what to measure and how, together with some practical tips for you to benefit from.

I will also introduce the main types of planning and highlight their major topics.

There's a chapter specifically designed for your convenience and it depicts how to understand the 3 financial statements (balance sheet, income statement and cash flow), their relationships and differences with simple examples. This will help you to understand how the numbers work in your businesses.

I also go into further analysis on topics such as the external environment, the business risks and how and when to ask for external advice; this is then followed by steps and a more in depth analysis of a typical plan in a small business.

If you are wondering or wanting to learn how to plan quickly and efficiently then this is the right book for you!
This Best Practice includes
1 PDF Document
Acquire business license for $20.00
Add to cart
Add to bookmarks