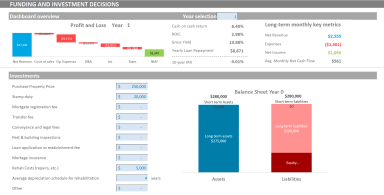 Airbnb Financial Analysis Excel Model
A sophisticated 10 year excel template to model and compare future rental holiday investments.
Acquire business license for $47.00
Add to cart
Add to bookmarks
Further information
The purpose of the Airbnb Financial Analysis Excel model is to provide the user with a useful tool to compare different real estate investments for a holiday rental (Airbnb or any other holiday rental web platform).
The main purposes of the Airbnb Financial Analysis Excel model template include:
- to forecast 10-year financials based on multiple scenarios and occupancy rates
- to track some key investment performance indicators - CAC, ROIC, Gross Yield, Yearly Loan Repayments, 10 year IRR, etc;
- to track the main business performance indicators - Gross Profit & Margin, Operating Profit & Margin, EBITDA, CASH BALANCE, etc;
- to calculate operating expenses on cleaning, utilities, property management, etc;
- to calculate investment expenses on property, renovation, multiple fees, etc;
- to estimate costs of debt depending on the interest rate and the time you will hold the loan;
- to estimate your monthly income based on your rates, fees and average nights per stay;
- to assess if the house you are targeting for your holiday rental investment in a given location is the right choice for you;
It is a generic template so the user will need to tailor the expense assumptions and revenue inputs to their own needs.
If you have no idea how excel name ranges work (they are easy though and with a tutorial, you will quickly understand how they work).