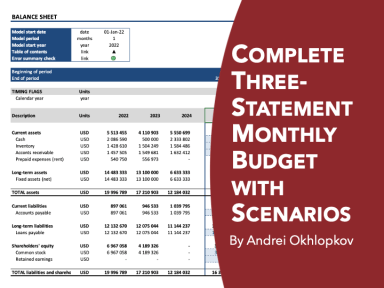 Complete Three-Statement Monthly Budget with Scenarios
A fundamental and professional budget / business plan

by Andrei Okhlopkov
Associate Director, Private Equity
Follow 269
Description
This is a comprehensive set of templates which will help you build your budgets. The templates are built based on the highest financial modeling principles in a granular and structured format and are suitable for both established businesses and start-ups. They cover a three-year period.

The file contains about 40 sheets representing the best practices for various budget sections. These smart and elegant forms can be used as part of this bundle or separately to create the budgets for:

- Sales revenues and cost of sales. The file as is handles up to 10 products which can be changed to your requirements rather quickly.
- Macroeconomic assumptions. The template includes CPI and WPI assumptions and can be run under nominal and real terms.
- Sales seasonality. You can define individual seasonality pattern for every product independently, which the model will follow in the calculations.
- Employee costs. Separate analysis for salaried and hourly employees, calculation of income tax under the graduated ("progressive") tax schedule, bonus, overtime, indexation, social tax, recruitment costs.
- Travel costs. Includes the analysis by cost type and by destination, other useful travel statistics.
- Rent and utilities. Takes into account seasonality in utility costs.
 Marketing and advertising, Professional services. Modelling of regular and one-off expenses, periodic expenses occurring in particular periods of the year
- Interest expense and loan balances.
- Capex and depreciation. Considers new and existing capex.

The model produces three standard reports (income statement, cash flow statement, balance sheet). I am explaining how to create cash flow statement using both direct and indirect methods.

In addition to standard reporting forms, the file calculates required funding and distributable cash by funding period (which can include one or several budgeting periods). It also performs profitability calculation by product on a per unit basis. Finally, it includes a complete ratio analysis section.

This file is equipped with scenario analysis where you can use various assumptions for specific inputs and see the effect on financial statements and profitability. Scenario analysis relies on advanced data tables showing the effect immediately as you change an input. Scenarios are illustrated by the charts.

The file is accompanied by professionally designed magazine-quality charts illustrating key outputs. Full details and explanations are provided in a separate text guide (approximately 40 pages).
This Best Practice includes
1 Excel file, 1 pdf file
Acquire business license for $99.00
Add to cart
Add to bookmarks
Further information
Develop a budget or business plan
Budgeting, financial planning and forecasting