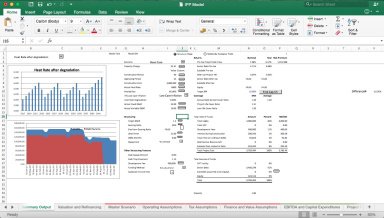 Independent Power Producer (IPP) Excel Model
Extensive and detailed Excel Model for Independent Power Producers

by Prof. Ed Bodmer
Consultant and Workshop Leader
Follow 619
Description
This is an incredibly detailed excel model for modelling you independent power producer projects and investments.

This excel model includes 13 functional tabs for modelling your projects. These are:

- Summary Output
- Valuation and Refinancing
- Master Scenario
- Operating Assumptions
- Tax Assumptions
- Finance and Value Assumptions
- EBITDA and Capital Expenditures
- Project Financing
- Tornado Diagram
- Tornado Chart
- Waterfall Chart
- Annual Analysis
- Annual Analysis Chart

As such, this model offers the basis to conduct an incredibly thorough and in depth analysis of your independent power producer investments and projects.

Within the summary output tab, you can input various data with regard to construction period, costs, heat rates, structuring, cash flows, debt coverage and uses of funds. This information is then used to conduct two helpful graphs, which plot the heat rate after degradation as well as the CFADS and debt service.

The valuation and refinancing tabs allows you to input data into the model based on your IRR, equity, re-financing and sources and uses. This enables you to track the overall project value and debt structure of your projects.

The master scenario tab plots huge amounts of data: construction period, operating period, construction cost, realised capacity, actual heat rate, actual degradation in heat rate, revenue inflation, actual availability, actual fuel price per kj, actual fixed O&M expenses, pre tax project IRR, project IRR, NPV, equity IRR, DSCR and LLCR. As such, in this tab you can log and track huge amounts of data that is essential to your project.

The operating and tax assumptions tabs allow you to input all of your financial assumptions regarding your project, including timing assumptions, capital expenditure assumptions, depreciation and amortisation assumptions, profits tax assumptions, VAT and fixed assets assumptions. Thus, this gives you a great model to plot your financial assumptions for the project.

Ultimately, this is a great model for logging all data regarding your independent power producer project and build projections for the future. This tool will help you to create substantial analysis of your project.
This Best Practice includes
1 Excel Spreadsheet
Acquire business license for $50.00
Add to cart
Add to bookmarks