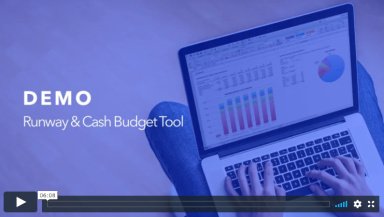 Runway and Cash Budget Template for Excel and Google Sheets
Three year financial model template for Excel + Google Sheets to plan expenses, build a cash budget and forecast runway.
Taylor Davidson offers you this Best Practice for free!
download for free
Add to bookmarks
Further information
The free Runway and Cash Budget Tool is used to build a cost budget and forecast cash and runway. It's intended to be a simple model with easy inputs for expenses, revenues, and external funding, so that you can get a handle on burn, cash and runway quickly and easily. It is the simplest of the base financial models used for creating financial forecasts - and is a good starting point for idea-stage, pre-seed, and even seed-stage founders, advisors, mentors, or consultants that need to create a cost budget and runway forecast with the simplest structure possible.
Startups looking to create a basic forecast of costs and communicate their burn, runway, sources and uses, and traction.