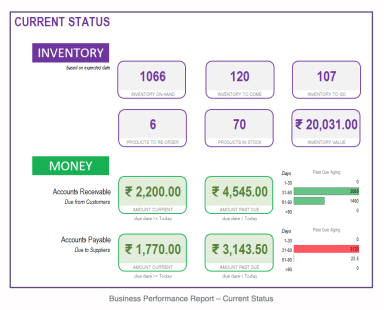 Retail Business Manager – Excel Template
The Retail Business Manager Template is an efficient solution for managing retail and wholesale for small businesses.

by Indzara
Simple & Effective Spreadsheet Tools & Processes
Follow

by Dinesh Natarajan Mohan
Founder of Indzara Excel Templates
Follow
Description
This template includes order, inventory and finance management, as well as invoice and purchase order generation, data management, and extensive business performance reporting. It is an all-purpose solution for all types of retail businesses.

The template's simple design only requires data input in the following areas: Products, Prices, Partners, Order Headers, Order Details and Expenses. From that information, it will calculate the Invoice, Purchase Order and Report sheets.

Purchase, Sale, Estimate, Quote and Adjust order types can be easily handled, as well as customer and supplier returns.

The Inventory Management Software creates instant access to the inventory levels of products at each warehouse location. You can set re-order points to know whether to re-order a product. It is possible to monitor inventory levels on the invoice to ensure that you can meet the sales orders.

Create invoices and purchase orders on demand by simply entering the order number. They are customizable, for example by logo and fields displayed.

The template can also handle finance and accounting management in the following ways:

- Tax rates at order level and taxability at product level
- Discounts for each product on the order and order-level discounts
- Additional order charges such as shipping
- The business' profitability
- Gross Profit = Sales Amount – Cost of Goods Sold COGS
- Net Profit = Gross Profit – Operating Expenses
- Payments on orders can be inputted to calculate the amount due on each order

The template generates and displays automatic calculations for the current status of inventory and money. It is possible to customize reports for a certain time window by selecting start and end dates.

The monthly breakdown of 10 metrics is shown:

1. Sales Amount
2. Cost of Goods Sold
3. Gross Profit
4. Operating Expenses
5. Net profit
6. Sales Quantity
7. Purchase Quantity
8. Purchase Amount
9. Quantity Returned by Customers
10. Quantity Returned to Suppliers.

You will then be able to view which products are in the top and bottom 10.

Change the sales metric to be Quantity, Amount or Margin to gain a better understanding of the highest contributing products to your business. It is also possible to view the performance of individual products.

You can also understand the performance of your partners (customers and suppliers). You can view the top 10 customers and suppliers, as well as the performance of a specific partner.
This Best Practice includes
1 Excel Template
Acquire business license for $40.00
Add to cart
Add to bookmarks