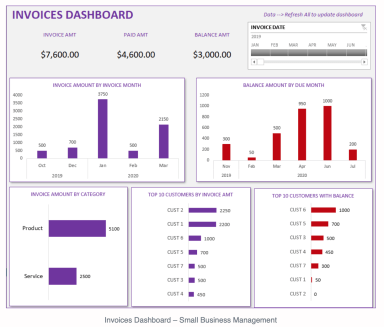 Invoice Manager Excel Template for Small Business
The Invoice Manager Excel Template is an efficient tool to help you manage customer invoices and payments for your small business.

by Indzara
Simple & Effective Spreadsheet Tools & Processes
Follow

by Dinesh Natarajan Mohan
Founder of Indzara Excel Templates
Follow
Description
This template will enable you to:

- apply payments automatically against invoices;
- know which customers owe the most balance;
- know which invoices are due;
- and which customers and invoice categories are driving your business's revenue.

The simple data entry mechanism means that you only need to enter your Invoices and Payments into the Invoice Table and Payments Table respectively.

Both invoice and bulk payments will be handled by the template. Invoice payments are those made against an individual invoice and can be partial or full. Bulk payments are made against numerous invoices and include all payments without an invoice number.

The template will automatically apply bulk payments made by a customer to their unpaid invoices. Additionally, overpayments can be calculated and are displayed in the Custom Report, whether they be from an invoice or bulk payment.

The Invoices Dashboard summarizes and displays the total invoice amount, the total paid and the remaining balance amounts. It displays the following visuals:

- Invoice amount per month (revenue trend)
- Balance amount by Due Month (future revenue projection)
- Invoice amount by invoice category
- Top 10 customers by invoice amount
- Top 10 customers by balance amount

The unpaid invoice report depicts the unpaid invoices separated into current and past due invoices. See all invoices in one place and then take action to deal with those customers accordingly. Invoice Aging is automatically calculated and presented. Invoices due today will be highlighted in blue. It is possible to view 20 current and 20 past due invoices at once. To see the next set, type in 21 and you will be able to see invoices 21-40.

The Customer Report will create a report of a specific customer's invoices if you type in a customer name. Display all invoices or just past due invoices. Display 30 invoices at a time and display the next 30 easily.

The template can handle 5000 invoices by default, but it can be adapted to include more.
This Best Practice includes
1 Excel Template
Acquire business license for $35.00
Add to cart
Add to bookmarks