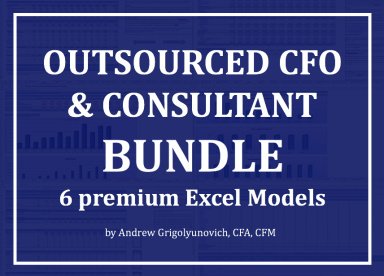 Outsourced CFO and Consultant Bundle
This is a highly professional financial projections bundle for a variety of key industries.

by Andrew Grigolyunovich, CFA, CFM, FMVA
Founder & CEO at The Financial Modeling World Cup
Follow 164
Description
This is a highly professional finance bundle for a variety of key industries to help you make financial projections for the majority of your clients.

Within this tool are 6 templates, which are available to download and use at an instant at a collective discounted rate. The following MS Excel spreadsheets are included:

Construction Budgeting Excel Template: This is an in-depth financial planning template, over a year period, for those within the construction industry. It will enable the user to forecast all construction projects, in order to see the projected profitability.

https://www.eloquens.com/tool/kmgRIMAj/finance/construction-excel-templates/construction-budgeting-excel-template

Wholesale Budgeting Excel Template: A multi-functioning template for planning for a range of company financials. The main features of this model include building sales plans, projecting inventory supply, the scheduling of loan payments and purchases, amongst others.

https://www.eloquens.com/tool/Zjg2uP3G/finance/budgeting-excel-templates/wholesale-budgeting-excel-template

Manufacturing Company Budget Template: This is a financial planning tool suited to a manufacturing company, whether that be a textile, chemical, or electrical company, for example. This tool allows revenue projection by product category, and through associated retail chains.

https://www.eloquens.com/tool/z8wXip2Y/finance/manufacturing-excel-templates/manufacturing-company-budget-template

Retail Budgeting Excel Template: This is an all-inclusive financial planning template for companies in the retail industry, applicable to all different business sizes. This is an essential for those looking to forecast cash flows, purchases, and inventory.

https://www.eloquens.com/tool/Pw1gs98k/finance/retail-financial-model-excel-templates/retail-budgeting-excel-template

Professional Services Budget Excel Template: Useful for both companies and individual entrepreneurs, this is a flexible financial planning model for those providing services of any kind. Included are assumptions and projections for Profit & Loss, Balance Sheet, and Cash Flow Statements.

https://www.eloquens.com/tool/NLVlhxa2/strategy/management-consulting-templates-and-frameworks/professional-services-budget-excel-template

Hotel Chain Budgeting Excel Template: This tool is for companies within the hotel industry looking to budget their financials. As with the professional services template, this provides assumptions and projections for P&L, BS, and CF statements.

https://www.eloquens.com/tool/Jk8Dh10V/finance/hotel-financial-models/hotel-chain-budgeting-excel-template

If you have any questions or queries, you can start a discussion below, or reach out directly by private message via my Eloquens author channel page.

If you've enjoyed this bundle, show your appreciation by leaving a rating and review below!
This Best Practice includes
6 Excel Templates, 6 Excel Demo versions
Acquire business license for $250.00
Add to cart
Add to bookmarks