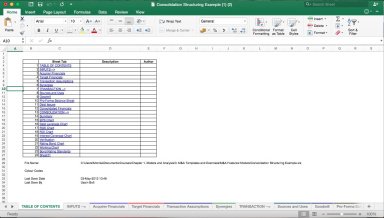 Merger Model - Consolidation of Two Companies
Financial Model for a business merger focussing on the consolidation of two companies.

by Prof. Ed Bodmer
Consultant and Workshop Leader
Follow 632
Description
This excel file is a great tool for documenting and planning the merger and ultimately, the consolidation of two companies.

This model is made up of 19 functional tabs, allowing you to conduct an incredibly thorough analysis of the financials behind the merger. These tabs are:

- Acquirer Financials
- Target Financials
- Transaction Assumptions
- Synergies
- Sources and Uses
- Goodwill
- Pro-Forma Balance Sheet
- Debt Issues
- Consolidated Financials
- Summary
- EPS Chart
- Debt Leverage Chart
- ROE Chart
- ROI Chart
- Interest Coverage Chart
- Ratind Band Chart
- Working Chart
- Bond Rating Standards


The first tab allows a space to document the finances of the company that will be making the acquisition. This tab is based on a series of assumptions, from the operating assumptions, interest rates, financing to the income statement, cash and balance sheet. Thus, this tab offers a great way to conduct an incredibly thorough financial analysis of the company making the acquisition.

This tab is then replicated to provide a space to analyse the financial performance of the target company. Again, this tab offers an in-depth analysis based on numerous financial assumptions.

The Sources and Uses and Goodwill tabs provide a space to analyse the sources and uses of funds as well as the equity purchase price, transaction costs etc.

The tool also give you the opportunity to construct a Pro-Forma balance sheet based on the business' assets, liabilities, capital and shares. Also, you will be able to conduct analysis on the debt of both business within the the "Debt Issues" tab.

All of this financial information is then used to create numerous helpful charts and graphs that will help to visualise the financial performances of both companies.

This Best Practice includes
1 Excel Spreadsheet
Acquire business license for $5.00
Add to cart
Add to bookmarks