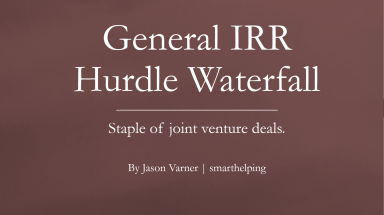 Staple of Cash Flow Waterfalls: 3 Tier IRR Hurdle Distribution Structure
Simple one-pager cash flow distribution template that uses IRR hurdles. Just enter Contributions/Distributions at the top.
Acquire business license for $45.00
Add to cart
Add to bookmarks
Further information
Provide a simple framework for IRR hurdle-based cash flow distributions.
Any joint venture deal with up to 3 IRR hurdles.