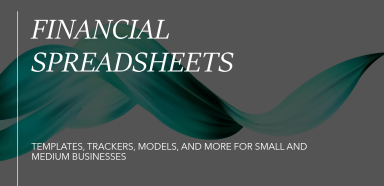 Financial Models (120+) - Useful and Usable Logic
Excel is great for finance! This bundle contains all the templates, trackers, and financial spreadsheets I have ever built.

by Jason Varner
smarthelping.com - Financial Modeling for Everyone
Follow 158
Description
Latest Update - January 10th, 2023

I update this bundle with all the recent templates I've built / any upgrades or improvements at the end of the second week of each month. With the one-time purchase, you have access to all templates I ever built in the future.

I have been doing financial spreadsheet consulting work since 2015 and been working in Excel professionaly since 2012 (Accounting at a small business out of college).

Over the years I took on the most complex and difficult jobs (see my Upwork history): https://www.upwork.com/freelancers/~01a1cd5d812f168d30 and in that process I started to figure out what things were most valuable to businesses. So I started to create templates that I thought would be really useful to a general audience. This template bundle is the culmination of all that work.

You can see all the individual spreadsheets in the images, but here are the general categories:

1. SaaS - 15 startup financial models, KPI trackers, and revenue forecasting sheets. This also contains a few recurring revenue structures that are not necessarily software, but still use similiar logic, such as a mobile app, product-as-a-service, and a professional services agency among other things. One of the most powerful tools in this bundle is the SaaS pricing / margin analysis template.

2. Real Estate - I built a wide range of underwriting tools and investment analysis templates here, including multifamily acquisitions, short-term rental analysis, flipping calculator / renovation impact, mobile home park acquisitions, self storage, mixed use, and a few general cash flow waterfalls with IRR hurdles. Recently added real estate brokerage business financial model.

3. Industry-specific - Startup models for over 30 industries. All of these use bottom-up revenue logic that is specific to the industry. 95% of them contain three statement model integrations. They all focus on cash flow forecasting, investment return analysis, and unit economics.

4. Joint Venture - I have done a few different cash flow waterfalls on this. Preferred equity, preferred return, and IRR hurdle-based versions exist as well as a few other spreadsheets for investment fund tracking and cumulative distribution hurdles. These are meant for the user to plug in their cash flows at the top and let the logic work. Recently added a preferred return fund tracker and preferred return simple interest hurdle calculator.

5. HR Tools - These are mostly Google Sheet templates, but some were also converted into MS Excel. They include tracking employee training / task completion, employee benefits tracking, building monthly time sheets / tracking hours, hiring plans, and general tools helpful for an HR manager.

6. Accounting - Templates to track accounts payable and receivable, inventory forecasting and tracking, FIFO COGS valuation, budgeting, tracking cash conversion cycle, analyzing financial statements over time and tracking, depreciation expense management, and job costing. Recently added an expense tracker and financial statement creator.

7. Lending - The business of lending money out / origination loans is especially difficult. This bundle includes a financial model to scale up to three loan types with equity funding and/or a rolling credit facility. It also has dynamic logic for recycling earnings back into new originations. There is a flat fee lending business model as well as a P2P lending platform model.

8. Valuation - General valuation of a business based on EBITDA multiples, DCF valuation (monthly/annual periods) with a sensitivity analysis, and the Gorgon Growth valuation methodology is also included.

9. Sales pipeline tracking - There are a few Excel and Google Sheet spreadsheets included in this bundle that make it easy to manage customers within a sales pipeline. CRM can actually be done really well here as you are able to see customers in the pipeline by status, count, value, and run all kinds of reports on that. Funnel and gauge visuals are used as well as general visuals based on slicing and dicing the data.

All templates include an instructioanl video.

Notable templates per last update: KPI Dashboard for Construction Business Quoting, Property Management Startup Model, and Project Management Tracker
This Best Practice includes
120+ Excel and Google Sheet Templates
Acquire business license for $850.00
Add to cart
Add to bookmarks
Further information
Build financial forecasts and study unit economics for a wide range of industries and with various methodologies.
This bundle is most likely for a financial consultant or someone that wants to run feasibility studies for a wide range of businesses. Also great for tracking data of all sorts.