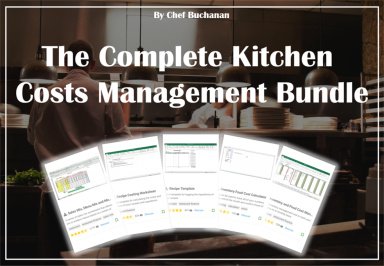 The Complete Kitchen Costs Management Bundle
This Kitchen Costs Management bundle is a fantastic combination of templates to help streamline restaurant finances.

by Chef David Buchanan
Professional chef with over 30 years experience working in the hospitality industry.
Follow 77
Description
The Complete Kitchen Costs Management Bundle is the perfect collection of templates for anybody looking to start their own restaurant or catering business. The package is also an effective means of streamlining business processes.

The package includes 5 Excel templates, combined for the specific purpose of reorganizing and standardizing the processes of recording the kitchen's costs. The following tools are included:

- Sales Mix, Menu Mix and Menu Engineering Spreadsheet
This spreadsheet will assist the user in analysing menus based on popularity of the food, the cost, and the item margin. Sales Mix is the forecasting of food costs extracted from total items sold in a specific period. Menu Mix deals with the way in which menu items are distributed in the kitchen during service. Menu Engineering combines customer experience and the inter-relatedness and thematic cohesion of the kitchen, with the financial aspects of the business. The file is locked, but instructions on how to unlock it can be found here:
https://www.eloquens.com/tool/AN5fp7/chef-david-buchanan/how-to-unprotect-my-excel-worksheets

- Recipe Costing Worksheet
This worksheet enables any chef to efficiently calculate and track the finances behind the dishes.

- Recipe Template
This template focuses on assisting the user with calculating the quantities of ingredients required.

- Inventory Food Cost Calculator
Keeping track of your stock is vital to maintaining healthy margins. Also, it is important in order to ensure that you have the right amount of stock in the backrooms at the right time. This calculator enables you to easily work out the month end inventory.

- Inventory and Food Cost Monthly Template
This tool helps you to create a thorough overview of food costs, food inventory and storage. Perfect for dealing with the everyday logistics and tracking of stock and services.
This Best Practice includes
5 Excel Spreadsheets
Acquire business license for $10.00
Add to cart
Add to bookmarks