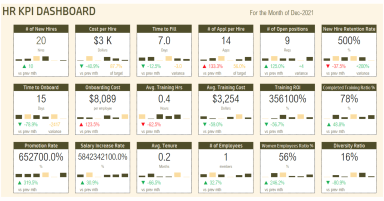 HR KPI Scorecard & Dashboard in Excel
This template is an effective tool to help you measure and present the key performance indicators (KPIs) that reveal the quality of HR in your organization.

by Indzara
Simple & Effective Spreadsheet Tools & Processes
Follow

by Dinesh Natarajan Mohan
Founder of Indzara Excel Templates
Follow
Description
This is a highly effective tool for HR and company leadership teams to understand the level, efficiency, and progress of HR within a company. This HR KPI Scorecard Excel Template provides you with a customized, detailed, and easy-to-read Scorecard and Dashboard in just a few minutes.

From this template you will be able to:

1. Make efficient yet informed business decisions.
2. Save weeks of time in not having to create such a KPI scorecard yourself.
3. Provide an elegant and personalized scorecard to your company's leadership in minutes.

Highlights of this Best Practice:

1. Create your customized HR KPI Scorecard and Dashboard within minutes due to its effective automation. Inputting data is a clear and simple process which generates highly successful and immediate outputs. Comments will appear alongside the KPI data on the scorecard to give the numbers context. The dashboard provides similar information but presents it using a KPI tile or KPI card style.

The template also comes with a sample file containing 30 KPIs with common sample data to use as a base if needed. These can all be modified accordingly.

2. The template is highly practical and functionable in addressing common business scenarios. The Dashboard's date can be set for one Month or Year to date (YTD). Additionally, the comparison period can be set to the 'previous month' or 'same month previous year'. This will enable you to calculate and compare the data either month/month or year/year.

• The KPIs can be aggregated as Sum, Average, Weighted average or Latest snapshot.
• The KPIs can be set up to be compared as Change or Change Percentage. The absolute change calculation will therefore be in KPI value or as a percentage accordingly.
• You also have the choice to compare targets as Actual Percentage of target of Actual – Target variance.
• Lower or Higher Value types of KPIs are both supported.
• The template accommodates KPIs with varying formats (e.g. Currency, Whole numbers, Decimals, Percentage etc.).

3. Make the KPI scorecard completely personalized by inputting your own KPIs and customizing the settings. Note that the Period/Period Comparison and Target Comparison are optional and can be removed if not needed. The Period/Period Comparison concerns all KPIs together whilst Target Comparison can be generated for each KPI.

Note that you may change the order of KPIs in the Dashboard by selecting the 'Custom' order and choosing each tile/card slot in the Dashboard. By default, however, the KPIs will be displayed in the Dashboard chronologically.

You may also change the order of KPI categories which are grouped automatically in the KPI scorecard. To change the order, simply enter the KPI categories in the Settings sheets and change their order.

The Number of Months in trendlines can also be customized to your required timeframe.

It is possible to enter in the tolerance percentage when comparing against targets and this will determine whether the comparison value is Green, Red or Yellow.

4. The template's design is action-oriented to aid business decisions. It is possible to record commentary for the KPI each month which will be displayed automatically on the scorecard. You will be able to keep all comments for 2 years in one file.

The Scorecard and Dashboard enable you to see the KPIs which have not yet met their targets. It also enables you to see the monthly actuals vs targets and year/year.

Requirements: Excel 2013 and above. Excel Online/Excel for the Web.

Limitations: Supports 100 KPIs by default. Up to 8 KPI categories by default. Handles 2 years of monthly data.

If you would like to expand these limits, please send us a private message or contact us at support@indzara.com.
This Best Practice includes
1 Excel Template, 1 Excel Template with sample data
Acquire business license for $50.00
Add to cart
Add to bookmarks