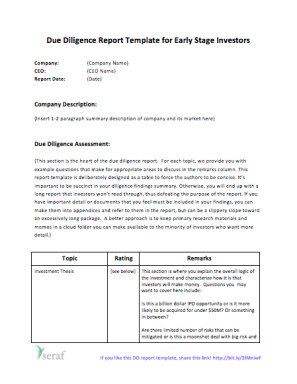 Template for Due Diligence Reports
An easy-to-follow template that contains explanations and examples to aid you in creating a due diligence report

by Seraf
Seraf provides insights, news and in-depth resources for early stage investors
Follow 99
Description
Due diligence is effectively an audit of a potential expenditure to verify all facts, for example, reviewing financial records. It can also refer to a thorough check a seller carries out of a potential buyer - to see if the buyer has the required resources to complete the purchase.

Having a good diligence template is important to make sure the end product is useful for the reader. This report template consists of 11 main topics that should be well-examined and well-understood when creating a due diligence report on an early stage tech business. For each of these 11 topics, you are provided with explanations and examples.

This template is well structured in a three columned format. Although at first instance, this may feel limiting, but it is in fact consciously designed like that to ensure authors are concise. We have experience in handling hundreds of diligence projects has taught us that it is important to be concise in your summary. If not, you will have a long report that is unattractive for investors to read, which therefore defeats the point of the report Any important details or documents that you feel are important to be included, you can simply attach them into the appendices and refer to them in the report. A good approach would be to keep all primary materials (e.g. research and memos) in one cloud file which can be made available to the investor if they require any more information.

Disclaimer: This Due Diligence Report Template is designed to result in a short, readable due diligence report. Our goal is to provide our investors with a 2 to 4 page summary report that is readable and comprehensive. It covers all the main areas in diligence and provides the author(s) with a structured approach. We receive very positive feedback on this streamlined diligence template and recommend that investment organizations consider adopting something like it as their standard.
This Best Practice includes
1 Due Diligence Report Template
Seraf offers you this Best Practice for free!
download for free
Add to bookmarks