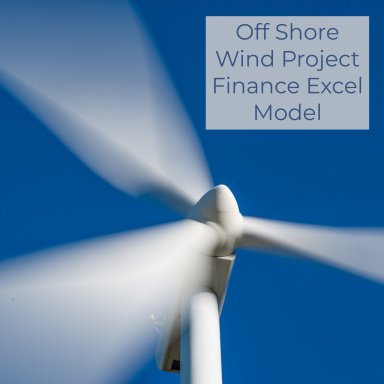 Off Shore Wind Project Finance Excel Model
Detailed excel model for tracking and projecting the finances of your off shore wind investments.

by Prof. Ed Bodmer
Consultant and Workshop Leader
Follow 623
Description
This tool allows for extensive financial analysis and projections for your off shore wind projects and investments. It includes numerous functional tabs that allow you to input huge amounts of financial data to track the financial progress of your investments, and project future financial fluctuations. These tabs include:

- Project Summary
- Valuation Summary
- Master Scenario
- Working
- Audit
- Construction Graph
- Annual
- Simple Debt Repayment
- Refinancing
- Tornado Chart
- Circular


Within the Project Summary you can input various assumptions: Operating Assumptions, Financing Structure, Re-Financing, Returns, Credit, Uses of Funds etc. This means that you can create a simple and effective overview of your project finances. Furthermore, this tab provides two helpful charts to visualise the finances of your project. The input data is used to create charts for cash flow availability for debt service, as well as the nominal merchant price.

The Valuation Summary tab displays three different charts. These are based on the discount rate evolution over time, the cash flow over holding period against the equity cash flow over holding period as well as the valuation from ungeared cash flow against the valuation from equity cash flow. As such, this tab is incredibly useful in visualising the financial data regarding the valuation of the project.

The Master Scenario tab allows you to track many different factors: Construction period, Construction Cost, Capacity Factor, FIT, Variable Price Code, Operating Expense Level, Inflation Index Code, Pre-Tax Project IRR, After-Tax Project IRR, Equity IRR etc. This allows you to plan for different scenarios for high and low cases of each variable. As such, this is a great way of planning for different circumstances that may occur along the course of the project.

The Working tab gives you a space to log all of the financial assumptions with regard to your off shore wind investments. In this tab you can track the following:

- Timing
- Operations
- Taxes and Depreciation
- Base Debt Assumptions
- Debt Funding
- Debt Repayment
- Credit Enhancements
- Re-Financing Assumptions
- Valuation Assumptions
- EBITDA and Capital Expenditures
- Depreciation Expense
- After-Tax Cash Flow
- Profit and Loss
- Cash Flow Waterfall
- Balance Sheet

This tab gives you the opportunity to conduct an incredibly thorough financial analysis of your off shore wind projects.

The following tabs offer the opportunity for even more extensive financial analysis and provide handy charts to simply visualise the data.

This is a great tool for anyone interested in off shore wind investments to plan, track and project the finances of their investments.
This Best Practice includes
1 Excel Spreadsheet
Acquire business license for $50.00
Add to cart
Add to bookmarks