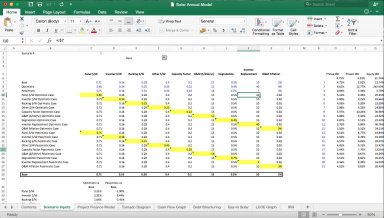 Tax Equity Analysis Excel Model for U.S. Renewable Energy Projects
Excel model for renewable energy projects with analysis of tax equity.

by Prof. Ed Bodmer
Consultant and Workshop Leader
Follow 630
Description
This tool contains two excel files: The Solar Annual Excel Model and the Tax Equity Analysis Model. As such, using these two models in conjunction with one another will help you to model your renewable energy projects with focus on the tax equity analysis.

The Solar Annual Model includes 8 functional tabs:

- Scenario Inputs
- Project Finance Model
- Tornado Diagram
- Cash Flow Graph
- Debt Structuring
- Gas vs Solar
- LCOE Graph
- IRR

The scenario inputs tab allows you to input data about your solar project based on various key factors: Panel $/W, Racking $/W, Other $/W, Capacity Factor, O&M, Degradation, Inverter Replacement and O&M inflation. This allows you to project these figures based on an optimistic case and an optimistic case. As such, this tab will allow you to plan for evert eventuality in your solar projects.

The Project Finance Model will allow you to model the finances of your whole renewable energy project based on timing, operating assumptions, tax & depreciation assumptions, capital expenditures, revenues, pre tax and after tax cash flows, sources and uses, maintenance reserve account, income statement, cash flow waterfall etc. Therefore, you will be able to construct an extensive financial model for your project.

The further tabs help to visualise all the information about your project, helping you to easily keep track of your investments.

The tax equity analysis model will give you the opportunity to analyse the tax equity of your projects. The dashboard tab will allow you to monitor the overall taxes of your project based on Pre-Tax IRR, Post Tax Return with and without use of NOL and also the NPV of NOL. This model will allow you to input huge amounts of your project's financial data so that you can keep a strong grasp on your tax commitments.
This Best Practice includes
2 excel files
Acquire business license for $50.00
Add to cart
Add to bookmarks