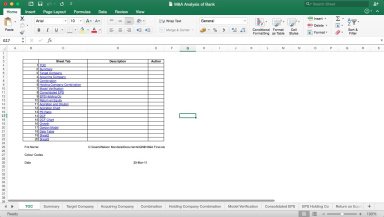 M&A Analysis Bank Excel Model
Detailed excel financial model for mergers and acquisitions.

by Prof. Ed Bodmer
Consultant and Workshop Leader
Follow 624
Description
This is an in-depth and extensive excel tool for modelling with regard to mergers and acquisitions.

This tool is made up of 17 functional tabs, which will enable you to model the finances of the target and acquiring company. These tabs are:

- Summary
- Target Company
- Acquiring Company
- Combination
- Holding Company Combination
- Model Verification
- Consolidated EPS
- EPS Holding Co
- Return on Equity
- Accretion and Dilution
- Accretion Chart
- PE Ratio
- DCF
- DCF Chart
- Growth
- Gordon Model
- Data Table

Using these tabs will give you the basis to conduct extensive financial analysis on both the target company and the acquiring company.

The summary tab consists of two charts based on the return on equity and the consolidated and stand alone EPS.

The Target Company and Acquiring Company tabs will allow you to conduct a thorough analysis of both's finances, based on their assets, capital, liabilities etc.

The Combination tab provides a space to compare the financial analysis of both companies to give you a space to evaluate the potential benefits of acquiring the other.

The remaining tabs allow for even deeper financial analysis of the companies, whilst also offering a visualisation of these figures through various charts.

This excel tool offers a great way of analysis both the acquiring company and target company's finances, allowing you to evaluate the potential pros and cons of acquiring.
This Best Practice includes
1 Excel Spreadsheet
Acquire business license for $50.00
Add to cart
Add to bookmarks