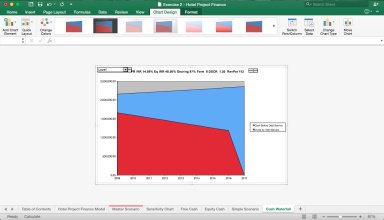 Hotel Project Finance Model
Extensive financial model for your hotel projects and investments.

by Prof. Ed Bodmer
Consultant and Workshop Leader
Follow 626
Description
This excel model represents an incredibly detailed overview of the finances of your hotel projects and investments.

With this model, you will be able to conduct extensive analysis of the financial progress and projections for your hotel project.

The model is made up of 7 functional tabs, that will allow you to input your financial data, which will give you essential calculations and help you to visualise your finances with several useful charts.

The 7 tabs are:

- Hotel Project Finance Model
- Master Scenario
- Sensitivity Chart
- Free Cash
- Equity Cash
- Simple Scenario
- Cash Waterfall

The hotel project finance model tab allows you to input huge amounts of the financial data that relates to your hotel project. These inputs cover a wide range of different financials:

- Operating Assumptions
- Construction Costs
- Financing Assumptions
- Revenues
- Operating Expenses
- Total Expenses
- EBITDA
- Sources and Uses
- Debt Schedule
- Depreciation Schedule
- Profit and Loss
- Cash Flow
- Balance Sheet

Therefore, this model gives you the opportunity to create an incredibly extensive analysis of all areas of your hotel project's finances.

This data is then used to visualise your financial performance in several useful charts that map: Interest rates, cost of food, number of staff, cost of staff, cost per room, occupancy rate, internal rate of return and cash waterfall.

This model will help you to both analyse and visualise the financial performance of your hotel projects.
This Best Practice includes
1 Excel Spreadsheet
Acquire business license for $50.00
Add to cart
Add to bookmarks