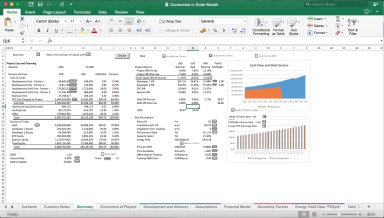 Multiple Currency Analysis and Development Analysis in Solar Plant Excel Model
Excel model for multiple currency and development analysis of your solar plant projects

by Prof. Ed Bodmer
Consultant and Workshop Leader
Follow 624
Description
This excel tool is a great model for analysing all of the details behind your solar plant projects. This tool includes 8 functional tabs to help your analysis. These include:

- Summary
- Economics of Players
- Development and Advisory
- Assumptions
- Financial Model
- Sensitivity Factors
- Energy Yield Data
- Debt Translation
- DRSA Translation

Thus, this tool offers a model to conduct extensive analysis of the development of your solar plant projects in multiple currencies.

The summary tab allows you to input various data regarding your project, based on the project cost and financing, sources and uses, project returns and key assumptions. The tab also offers two helpful charts to track cash flow and debt service as well as the local and foreign inflation rates.

The development and advisory tab will allow you to monitor the progress and development of your different projects and log their capacity, cost per kWQ, total cost and development period.

In the assumptions tab you can input various assumptions such as timing, general macro assumptions, plan characteristics, advisory fees and costs, capital expenditures etc. The financial model tab offers a model to input huge amounts of financial data: exchange rates, operational costs, revenues, O&M expenses, EBITDA and pre-tax cash flow, funding requirements, sources of funds, pre-tax cash, taxes, depreciation, after tax cash flow etc etc. Thus, it give you the opportunity to conduct an extremely detailed financial analysis of your projects.

This model offers the opportunity to extensively model the development and finances of your solar plant projects, whilst taking into account the possibility of multiple currencies.
This Best Practice includes
1 Excel Spreadsheet
Acquire business license for $5.00
Add to cart
Add to bookmarks