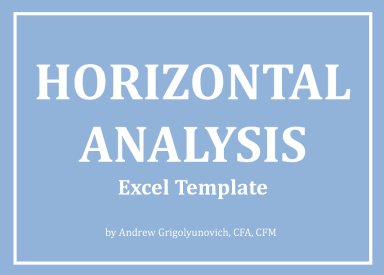 Horizontal Analysis Excel Template
The Horizontal Analysis tool is an excel template that helps to perform horizontal analysis.

by Andrew Grigolyunovich, CFA, CFM, FMVA
Founder & CEO at The Financial Modeling World Cup
Follow 165
Description
This tool is a Horizontal Analysis Template designed to allow users to compare trends and see changes in company financial information.

It uses the data from a Profit and Loss statement and Balance Sheet to identify significant changes in trends and growth patterns over the period of a year. The Horizontal Analysis Template is designed to clearly & easily facilitate the input of all required data in order to achieve results.

We suggest looking out for increasing costs/expenses and decreasing revenue sources. It may be to do with your business' growth, or some changes that were made in between the growth/fall.

This template includes a profit & loss statement and a balance sheet so that you can:
-> Detect significant positive and negative changes in the financial situation of your company
-> Determine which positions need further changes for a more profitable performance

If you need a free Vertical Analysis Template, you will find one here: https://www.eloquens.com/tool/BN8lC7lv/finance/balance-sheet-excel-template/vertical-analysis-excel-template

Let us do the work for you!

Feel free to contact our team in case you need support with budgeting your company. Our team provides financial modeling services to companies around the world. Actually, this is our core business. We have a lot of experience with creating budgets for service companies and know the specifics of the business. Just drop us a line via Private Message on our Author Channel.

Learn more about our Financial Modeling Services and our Excel template customization services.

If you require a budgeting template for a different industry, please have a look at similar budgeting templates here in our Eloquens Channel. If you can't find a template that suits your industry, you might consider ordering a customized budget template. Please contact us here: https://www.eloquens.com/channel/andrew-grigolyunovich-cfa-cfm
This Best Practice includes
1 Horizontal Analysis Excel Template
Andrew Grigolyunovich, CFA, CFM, FMVA offers you this Best Practice for free!
download for free
Add to bookmarks