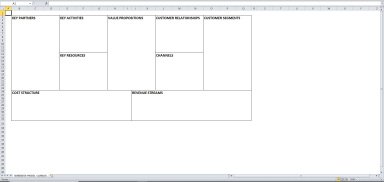 Business Model Canvas
Analyze either your own business model or the business model of competitors.

by Alberto Scappini
Business Analytics Manager, Professor Data Analytics, Author
Follow 109
Description
Invented by Alexander Osterwalder, this tool can be used to examine how a company is creating and delivering value to its clients. Although it was originally used to help create a new product or business, here the business model canvas is presented as an analytical tool. You can also use this model to understand whether or not another company is a competitor. This is due to the fact it analyzes what responds to customer's needs: the value proposition. This is really what companies compete on: the problem that they solve for their customers.

This study is comprised of the analysis of 9 segments of the business and how they are linked to one another. Firstly, you must define your customer segments, followed by the value propositions that you are offering to them. The value proposition is defined as a problem that you solve or a need that you satisfy for your customer. It is possible that for different customers, you are offering different value propositions. E.g. a search engine provides advertising space to companies as well as search results to Internet users.

Next, we must identify how we can deliver this value to customers and how we go about managing relationships with them.

Once we have done this, we can describe our revenue model.

Note: to understand how to go about creating value propositions, you must first identify your key activities, resources, and partners.

These three segments allow identification of cost structure.

For more info about this model, you can sign up for the free online course "How to Build a Startup," or visit the official website of the Business Model Canvas.


This Best Practice includes
1 Business Model Canvas Template
Alberto Scappini offers you this Best Practice for free!
download for free
Add to bookmarks