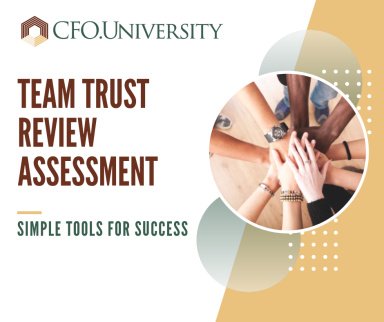 Team Trust Review Assessment Tool
This Team Trust Review Assessment, is designed to gauge the level of current team trust.
Description
This Team Trust Review Assessment, developed by Andrew Jenkinsfrom PDX-Consulting in collaboration with CFO.University, is designed to gauge the level of current team trust. Applicable to any team in any business, it asks team members to rate issues around trust.

The Team Trust Review is pre-work for a Team Trust discussion with your colleagues. This tool can handle up to 8 team members for the self-calculating Summary tab to be used. Once all team members have completed their assessment the summary tab will provide excellent points for kicking off the Team Trust Discussion.

Don't be mistaken; this is not a namby-pamby or fluffy process, however. Not at all! To develop people and teams from the inside out requires a willingness to mature and grow as individuals and as a team. That takes courage, time and some effort to nurture these.

To become a high-performance team takes dedication and willingness to take time out to develop. Moreover, to get there, you will need to:

1) Commit to growth as a team.
2) Develop a growth mindset as a team and shedding fixed mindset attitudes
3) Being humble and vulnerable with one another - let go of ego
4) Learn how to collaborate, cohere and boost your emotional intelligence
5) Work towards big goals.

The other benefit of high-performance teamwork means that you can then get on and run a successful business. Furthermore, you will not have to waste so much time on countless people issues.

Let us know how we can improve our tools to better serve you.

If you have any questions or stumble along the way, please reach out to us at CFO.University. You wouldn't be here if you didn't believe professional growth was critical to your success. We wouldn't be here if we couldn't help you accomplish that.
This Best Practice includes
1 excel file
Acquire business license for $49.00
Add to cart
Add to bookmarks