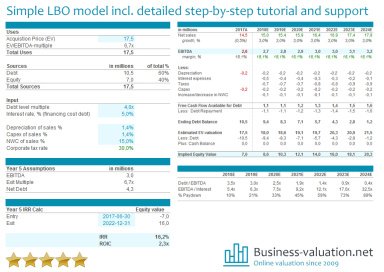 LBO model - Leveraged Buyout Analysis
A step by step LBO model tutorial. It is easy to use and we provide support if needed. Have fun modeling!
Acquire business license for $9.00
Add to cart
Add to bookmarks
Further information
This LBO model can be used by CFOs, Students, Teachers, Business controllers, M&A analysts, Private Equity analysts etc. The model is easy to use, has a hiqh flexibility and gets the job done.