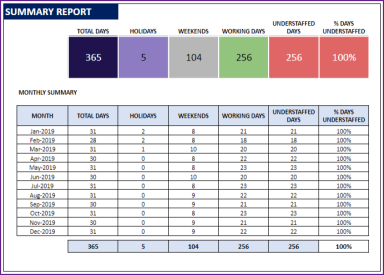 Team Vacation Planner Google Sheet Template
With this automated and simple excel template, easily calculate under/over-staffing within your company.

by Indzara
Simple & Effective Spreadsheet Tools & Processes
Follow 12

by Dinesh Natarajan Mohan
Founder of Indzara Excel Templates
Follow
Description
Organizing and maintaining a Team Vacation has never been this easy. It is time to innovate and automate how the HR department works and bring out some really effective processes in the work front.

Managing the staff and delivering work has always been a challenge to the HR department. Especially when the whole teams go on a long vacation or holiday. It exposes the HR department's ability to solve work problems and keep the company running. A good HR:
● Plans the resources early
● Organizes the necessary staff for that particular period of time.
● Staff for the project that has to be run during the time of understaffing
● Directing and Controlling the work dynamics in an organization
● Make informed decisions on the reports generated on a daily, weekly, and monthly basis.

We have designed this Google Sheet template to help calculate the availability of the number of employees on any day and compare it with the number of employees needed on that day in the business organization.

This will help us zero in if there are any days where we are understaffed. By planning ahead of time and being proactive, taking into account vacations and holidays coming up, we can be better prepared to:

1. Customize to suit your company's needs.
2. Any planning period of up to 1 year.
3. Any number of company holidays.
4. Each employee can have different availability.
5. Demand (Employees Needed) can be set differently by weekday.
6. Employees can have different employment periods.
7. Automated capacity calculations.
8. Calendar view of Employee and Team Availability.
9. Monthly Summary Report.
10. Easy and organized data management.

We hope you find this premium Google sheet template Team Vacation Planner useful for your business organization.

● Does this template accurately address policy settings in your business organization?
● Does this save your valuable time in planning Team vacations?
● Do you have any suggestions on how this template can be improved further?

In case you wish to manage all these circumstances using a single document for all existing employees (which you should), download this free Google Sheet Team Vacation Planner template right now.

You can also easily print this Team vacation planner template Google Sheets for use within your office. Or you can export to PDF and share by email.

Get In Touch with us & feel free to contact us at any time regarding any queries:
● Contact us for all product related queries
● Contact us for purchase-related queries
● Contact us if any customization is required on our products

Are there any other fields/areas where you opine a Google sheets template could be improved? We are open to ideas and you are our gold mine. Do share your feedback in the comments section. Please feel free to leave your comments below. Do share with your friends.

This Best Practice includes
1 PDF File with link to download the Google Template
Acquire business license for $15.00
Add to cart
Add to bookmarks