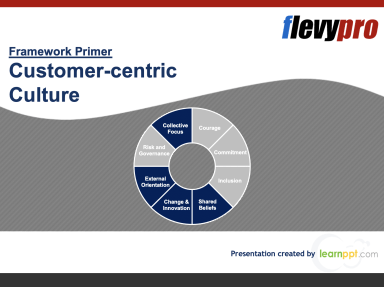 Customer-centric Culture
Becoming a Customer-centric Organization with a Customer-centric Culture is a necessity in today's Age of the Customer.

by Flevy
Best Practice Frameworks & Tools (used by Fortune 100) - Strategy, OpEx, Digital, Change, Process
Follow
Description
It's the Age of the Customer. In this day and age, becoming a Customer-centric Organization is no longer just a differentiator–it is a necessity.

Customers are now more demanding. Their expectations are higher. In fact, they expect companies to anticipate their needs.

To truly become a Customer-centric Organization, we must adopt a Customer-centric Culture. Research has shown that a Customer-centric Culture can drive superior financial results.

So, what characterizes a Customer-centric Culture? First, let's example a Corporate Culture framework that defines 4 core indices and 4 differentiating indices:

[Core Indices]

1. Collective Focus
2. Risk & Governance
3. External Orientation
4. Change & Innovation

[Differentiating Indices]

1. Courage
2. Commitments
3. Inclusion
4. Shared beliefs

Core indices are foundational to Organizational Culture, whereas differentiating indices drive differentiated performance. Developing a more Customer-centric Culture requires full understanding and integration of core and differentiating indices. However, there is an emphasis on just 4 of these dimensions:

1. Collective Focus

Understandably, organizations that provide exceptional Customer Experience have strong collective focus. Collective focus means everyone in the organization is united in their understanding of their roles in delivering our Customer Value Proposition. Employees must internalize and appreciate this shared vision on what it means to deliver a great Customer Service.

To achieve this, significant resources must be devoted to communicating the Customer Value Proposition. Specifically, we must also conduct extensive employee training and coaching to ensure that company's vision and value proposition are systematically represented in our service offerings and products.

2. External Orientation

Customer-centric companies that have strong external orientation are squarely focused on customers, competitors, and results. Employees must take an outside-in perspective, seeing themselves as customers see them.

3. Change and Innovation

Customer-centric companies place a premium on Change and Innovation. An organization with a Customer-centric Culture has corporate belief system in place that values failing fast and learning quickly. The notion that mistakes are learning opportunities is embedded in the organization. Customer needs and expectations are changing rapidly. Thus, we must innovate continuously to respond to these changes.

4. Shared Beliefs

In a Customer-centric Culture, employees find fulfillment in sharing the belief that servicing customers well is the priority. Processes are created to reinforce customer-centric values and make them relevant to new employees.

Interested in gaining a better understanding of these cultural dimensions that drive customer-centricity? Download this framework for more information.
This Best Practice includes
1 PowerPoint presentation
Acquire business license for $29.00
Add to cart
Add to bookmarks