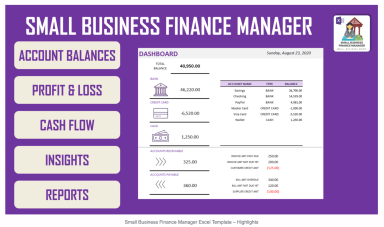 Small Business Finance Manager Excel Template
This Small Business Finance Manager Excel Template will enable you to manage your financial transactions simply and effectively.

by Indzara
Simple & Effective Spreadsheet Tools & Processes
Follow

by Dinesh Natarajan Mohan
Founder of Indzara Excel Templates
Follow
252 views
|
2 comments
|
Bookmark
Add to cart - $49.00
Description
Take control of your finances today with the Small Business Finance Manager Excel Template. The template will automatically create an Income Statement/Profit and Loss Statement, assess the balances of all of your financial accounts, including bank accounts, credit cards and cash, and create a Cash Flow Report.

The template's simple and effective design ensures that manual input of data will only take a couple of minutes. Start by entering your account balances and inputting the sub-categories of transactions in one sheet.

Whilst it is efficient to use, the template has numerous features such as Automated Dashboards, Reports and 14 different transaction types to help your business. Transaction types may include Invoices, Bills, Instant Sales, and Instant Expense Transactions.

The template can also handle Bulk Payments (made by you or customers), Refunds (to customers or suppliers), Transfers and Credit Memos.

The Dashboard will present your account's current balances, as well as amounts of Accounts Receivable and Accounts Payable.

The template will also automatically generate a Profit and Loss/Income Statement which can be modified to display the Monthly, Quarterly or Yearly amounts.

View the Cash Flow coming in and out of all your accounts, or individual ones.

The insights, interactive dashboard will enable you to gain important information about your sales and expense trends. You will be able to see which categories of sales are driving/decreasing revenue, and who your top suppliers/customers are.

Easily generate a report of total Unpaid Invoices/Bills, or ones for specific customers or specific suppliers or vendors.

Note that this is a stand-alone Excel file and so does not connect to other applications such as your bank account to gather data. You must manually enter the data into the file. It can handle up to 33 different sub-categories for Profit-Loss Statement, 5000 transactions by default, and up to 10 Accounts (banks, Credit Cards etc.).
This Best Practice includes
1 Excel File
Acquire business license for $49.00
Add to cart
Add to bookmarks