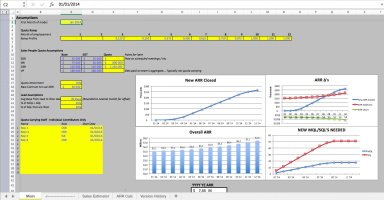 SaaS Revenue Forecasting Model
Full-packed revenue forecasting model to help SaaS founders take better decisions with key indicators.

by Noah Barr
SaaS Business Operations (BizOps)
Follow 10
Description
If my sales team is growing, where do I expect the revenue of my SaaS to be at the end of the year? And whats the number for leads needed for the business? How will the prediction for the end of the year change given the monthly changes in actual sales numbers?

To answer such type of questions, I built a model for a friend's firm and thought that maybe it could be recycled for you guys to use it as well.

These type of models are not exactly easy to build, specially to answer such questions. I will admit that forecasting revenue must be the most complicated part of making a model for a SaaS business, specially if it is a growing business.

SaaS businesses should be easy to model but when it comes to revenue and cashflow, they really are not (in regards to cashflow, the payment terms have a significant impact as explained in Tomasz Tunguz's Post: http://tomtunguz.com/cash-collections/); gladly you've got this model to facilitate things for you.

There are other important aspects such as salaries, that tend to grow based on your hiring plans, some sales commissions that are calculated by bringing together revenue along with some assumptions, a little AWS cost that grows in a linear trend with revenue growth... But the rest of the P&L is likely to be flat (think of rent) or it may increase linearly when its basis is some already-existing metric. (think of cost of healthcare that grows linearly with employee numbers)

I began this project to prove a concept, but now its for you to make it your own!

Do not hesitate to contact me if you have any questions!

- Noah Barr, 2014, LinkedIn Pulse

Do take note that the key of this model is its assumptions. And of course assumptions differ between firms. Businesses manage their operations with different indicators or maybe even the same indicators that just happen to be defined in a whole different way. I took an approach related to my previous experience with one enterprise SaaS product. However, if you want to take a different direction given your startup's nature and you want to go deeper into your own firm's structure, then simply use my model as a starting point. Enjoy!
This Best Practice includes
1 Excel Model
Noah Barr offers you this Best Practice for free!
download for free
Add to bookmarks