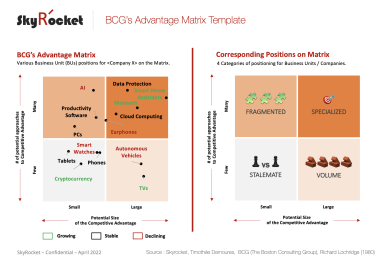 BCG's Advantage Matrix Strategy Template
A PowerPoint Template Version of BCG's Advantage Matrix for Business Leadership Teams to optimize the strategic position their company or business units.

by Tim Demoures
Managing Director (MD) @Eloquens.com, Chief of Staff (COS) @Wimi, COS @BxVentures, MD @Kroqi, VP Key Projects adVentures Startup Studio
Follow 184

by SkyRocket
Master Strategy Consulting Frameworks
Follow 31

with The Boston Consulting Group
Shaping the Future. Together.
Follow 14
show more keyboard_arrow_down
Other credits: Richard Lochridge
Description
Richard Lochridge, in his "Strategy in the 1980s" (1981) publication, created a matrix relative to the question of economies of scale and competitive advantage, called the "Advantage Matrix". It is far less well-known than the BCG Growth-Share Matrix (available here: https://www.eloquens.com/tool/RqG1U34Y/strategy/market-analysis/actors-competitors-market-mapping-with-the-bcg-boston-consulting-group-growth-share-matrix-powerpoint-template ) but complementary and highly pertinent to identify ways a business unit or a company can grow. It also has overlaps with other BCG frameworks such as the Experience Curve or Henderson's Rule of Three and Four (available here: https://www.eloquens.com/tool/A38MUj4q/strategy/market-analysis/bcg-s-rule-of-three-and-four-strategy-framework-template )

The framework is 2x2, four quadrant matrix with two MECE (Mutually Exclusive, and collectively Exhaustive) axis:
→ X Axis: "Potential Size of the Competitive Advantage" (i.e. the size of the company and its potential for economies of scale)
→ Y Axis: "Number (#) of potential approaches to Competitive Advantage" (i.e. opportunities to differentiate from its competitors, in terms of the number of applicable differentiation strategies)

The matrix is said to hence be a healthy mix of BCG's Growth-Share Matrix (X-Axis consideration's on "Economies of Scale" and "Size"), and Michael Porter's approach to differentiation strategies to avoid head-to-head competition (Y-Axis considerations on number of differentiation options). See Michael Porter frameworks here: https://www.eloquens.com/channel/michael-e-porter

Consequently, the four quadrants created are the following:

- 🧩 🧩 🧩 FRAGMENTED ("Small" Competitive Advantage Size, "Many" potential approaches):
these are generally companies or business units that don't compete on size but on their ability to differentiate in a niche market (examples: restaurants, IT repair shops, bakeries, bars, night clubs..., who differentiate with original approches and strong customer loyalty). Adding value-added services or products on top of the "classic" baseline product in the market, can also be a great way to differentiate (e.g. bars that convert to night clubs in the evening).

- 🎯 SPECIALIZED (Large" Competitive Advantage Size, "Many" potential approaches): companies in this quadrant generally have the best of both worlds, possibility to make economies of scale thanks to high volumes, and are also able to build a competitive advantage through differentiation (for example, the strength of their brand). Examples: consumer good brands (food and cosmetics) such as those present in the portfolios of P&G (Procter & Gamble), Mars & Co. or Unilever. Each brand indeed benefits from high sales volume (lowering costs at a maximum), and strong brands built over time with solid customer loyalty.

- ♟vs♟ STALEMATE ("Small" Competitive Advantage Size, "Few" potential approaches): when economies of scale are impossible (no leverage on a more intense usage of machinery, greater orders of primary goods etc.), other approaches must be considered to gain competitive advantage. Traditional industries, such as textile, have limited differentiation strategies, and no more (or low levels) of leverage on economies of scale. Possible options include: re-locating factories to low-cost labour countries, optimizing shipments or inventory management. Another good example is shipbuilding. This is the hardest position on the four quadrant matrix to be in for any Business Unit or company.

- 🧱🧱🧱🧱 VOLUME ("Large" Competitive Advantage Size, "Few" potential approaches): companies or business units in this category essentially gain competitive advantage by playing on economies of scale, given their capital intensive nature. The Automotive industry is a great example, especially since robotisation at the end of the 20th century. The success in the strategies implemented here highly depend on the company's ability to manage and monitor costs efficiently (indeed, products produced by market competitors are often quite similar, and price plays a big role in purchase decisions - though it could be argued this is less the case for the luxury segment of the automotive industry). Consumer Electronics is another great example.

LIMITS OF THE FRAMEWORK:

To be efficient, this framework needs stability. Even if markets tend to be less stable these days, the framework can remain valid over shorter cycles.

It is a "supply-side" framework essentially putting the ball in companies playing in the market, having a strong look at the "demand-side" while using this model, will help optimizing or filtering potential suggested strategies.

The framework is perfectly suited for project managers, business leaders and executive teams looking to understand how they are globally positioned and what family of strategies they can use to gain competitive advantage on their market.

The Best Practice is:
- 1 editable Microsoft PowerPoint Template Slide + an underlying Excel Model
- with an online & offline 14 step-by-step methodology, with pedagogical illustrations for each step.

Should you have any questions on using this top tier Strategy Consulting BCG Competitive Advantage Template slide, you're welcome to reach out to me via Private Message.

Good luck!
- Tim

⭐️ Bundle of 16 Four-Quadrant (2x2) Matrix Framework Templates (including this one): https://www.eloquens.com/tool/wJa7FKkP/strategy/management-consulting-templates-and-frameworks/four-quadrant-matrix-frameworks-template-bundle

⭐️ Bundle of 18 MBB (McKinsey, BCG, Bain) Strategy Consulting Frameworks (including this one): https://www.eloquens.com/tool/vqPVi0dJ/strategy/management-consulting-templates-and-frameworks/mbb-mckinsey-bcg-bain-models-and-frameworks-bundle 


Additional readings, sources and ressources on BCG's (The Boston Consulting Group) Advantage Matrix Framework:

- B2B Frameworks Blog post: ->https://www.b2bframeworks.com/competitive-advantage-matrix
- Wikipedia's definition: ->https://en.wikipedia.org/wiki/Boston_Consulting_Group%27s_Advantage_Matrix
- Be The Strategic PM's blog post (John Reiling) ->https://bethestrategicpm.com/bcg-advantage-matrix/ - notably his paragraph on the applications of the framework: Risk management, size of projects, project success metrics, speed and duration of projects.
This Best Practice includes
1 PowerPoint Template Model + 1 Associated Excel Model + 1 Offline/Online 14 Step-by-Step Methodology
Acquire business license for $7.00
Add to cart
Add to bookmarks