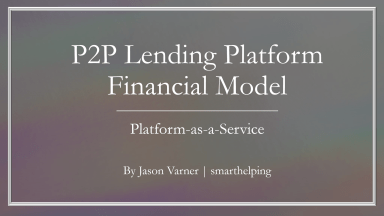 Lending as a Service (LaaS): Running and Exit Financial Excel Model - 10 Year
This model is specific for a lending marketplace operator (Peer2Peer). 3-statement model and cap table included.
Acquire business license for $70.00
Add to cart
Add to bookmarks
Further information
Provide dynamic assumptions for the forecasting of a lending facilitator platform.
Peer-to-peer lending platform that takes a % of the revenues generated.
A non-lending platform business or a bank.