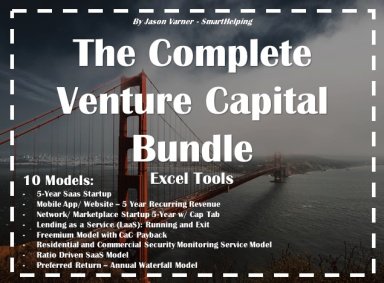 The Complete Venture Capital Bundle
This bundle of Venture Capital financial Excel models combines effective valuations, analysis and forecasting.

by Jason Varner
smarthelping.com - Financial Modeling for Everyone
Follow 149
Description
This Venture Capital bundle contains the templates required to complete a thorough financial analysis and forecast to present to potential investors.

(NEW) - 10 Year DCF Analysis - Plug in Year 0 through 10 cash contributions/distributions and up to 6 discount rates for a sensitivity table that displays the resulting NPV. This includes a secondary tab for up to 4 cash flow streams and 24 resulting NPV. Visuals included.

Enterprise SaaS - Driven by 3 customer tiers that are completely configurable in terms of contract length, average contract value, retention, and customer acquisition cost. 5-year monthly and annual view. Includes monthly and annual financial statements (IS/BS/CF) and a cap table.

General App / Desktop Client with in-app purchases - Logic specific to an app. For example, there are drivers for free users that view ads, paid users, and the percentage of paid users that make a certain level of in-app purchases each month for as long as they are a customer. Advanced logic for retention. This could also be considered a general freemium model. 3-statement model and cap table added to latest version.

- Preferred return model. You simply drop in the project level contributions / distributions and define a few assumptions. The cash flows go through a waterfall based on that. This templates goes out for a max period of 10 years and you can account for shortfalls. Available cash goes towards repayment of shortfalls first.
https://www.eloquens.com/tool/Ryp5hwj2/strategy/waterfall-chart-excel-templates/preferred-return-annual-waterfall-includes-shortfall-repayment-option-and-more

- 5-Year Saas Startup Excel Financial Model: 4 Pricing Tiers + Advanced Metrics (V)
This Excel model is a simplistic format for building financial projections. It has been tailored for SaaS startup companies. Due to the way in which the expenses have been categorized, it is simpler to extract the Customer Acquisition Cost (CAC). There are annual Profit and Loss (P&L) summaries included. ***This has been updated to include an integrated 3-statement model, cap table, capex schedule, startup cost schedule, contribution / distribution summary, and professional formatting.
https://www.eloquens.com/tool/b3LUak/startups/software-as-a-service-saas/5-year-saas-startup-excel-financial-model-4-pricing-tiers-advanced-metrics

- Product as a Service - This involves accounting for the manufacturing and selling of a product that has an optional subscription service that comes with it. The forecast goes out for up to 5 years and has granular assumption logic. You also have potential for investors, debt, and owner cash contributions and the resulting distributions will display. Plenty of visuals come along with it. (recently updated with cap table / financial statement reports monthly and annual)
https://www.eloquens.com/tool/vJPLT9d5/startups/financial-models/product-as-a-service-paas-strategic-business-modeling-planner-excel-model

- Ratio Driven SaaS Model - This is a 5-year forecast and it runs based on ratios between employee groups i.e. AEs to SDRs and deals per AE. There is logic to define the slow build-up an AE goes through to eventually meet their monthly defined quota. It has debt and equity contributions/distributions. There are plenty of visuals as well. This makes scaling a model properly easier. Updated with integrated financial statements, capex/depreciation, and cap table (joint venture capable).
https://www.eloquens.com/tool/z8MqHpxK/startups/software-as-a-service-saas/world-class-saas-model-growth-driven-by-headcount-ratios-and-quota-attainment

- Security Monitoring Service - This model goes out for 5 years and shows a monthly and annual financial forecast. The assumptions are directly related to the security and alarm service industry. Advanced SaaS metrics are included (I added MRR expansion and negative churn rate calculations). This can be used for a standard SaaS model with 3 pricing tiers or less. It has upsell and downsell logic between tiers, investor equity inputs, contribution and distribution summaries and over 20 charts.
https://www.eloquens.com/tool/Mqj3ukaE/startups/financial-models/residential-and-commercial-security-monitoring-service-startup-financial-excel-model-5-year

- Mobile App/ Website – 5 Year Recurring Revenue Excel Model Template (V)
This model is intended for apps or website that have paying subscribers. It affords plenty of flexibility to the user, to aid with the visualization of those metrics that are deemed the most important. NOTE: This has had major upgrades to include a fully integrated 3-statement monthly and annual report, cap table, capex with depreciation logic, and better configuration for exit proceed sensitivity and distribution / DCF Analysis.
https://www.eloquens.com/tool/LraFbY/startups/software-as-a-service-saas/mobile-app-website-5-year-recurring-revenue-excel-model-template

- Network/ Marketplace Startup 5-Year Financial Model with Cap Table
This financial model is effective for startup networks when the aim is to create a marketplace with the principal purpose of facilitating as many transactions as possible. In addition, it considers potential capitalization strategies for private equity or investor rounds. This tool helps the user maximize funding whilst giving away the smallest percentage of the business as possible. This has been upgraded with monthly and annual financial statements (formal) and improved global assumption layout.
https://www.eloquens.com/tool/Ymm0iBBK/startups/marketplaces/network-marketplace-startup-5-year-financial-model-with-cap-table

- Lending as a Service (LaaS): Running and Exit Financial Excel Model – 10 Year
This model has the aim of assisting lending marketplace operators, specifically Peer-2-Peer. It also produces summaries that show the high level metrics of the company. On the executive summary, IRR (Internal Rate of return), ROI (Return on Investment), cash requirements, and a DCF (Discounted Cash Flow) valuation are included.
https://www.eloquens.com/tool/4ejHpl/startups/marketplaces/lending-as-a-service-laas-running-and-exit-financial-excel-model-10-year

- Freemium Model with CaC Payback – 5 Year Forecast
This model is based on the concept of the provision of a free service, but with adverts. The user can then opt in to paying a certain amount in order to remove the ads. On the other hand, they could be paying for an improved service with more features. Visuals and an executive summary are included to provide primary financial statistics. (updated with 3-statement model, cap table, and formatting improvements)
https://www.eloquens.com/tool/E11kSxxy/startups/freemium/freemium-model-with-cac-payback-5-year-forecast

- 3-Statement financial model - It goes out for up to 5 years and shows a monthly and annual summary of the income statement, balance sheet, and statement of cash flows. Logic has been included for an exit and all the depreciation is automated based on the fixed asset schedule.

+ Residential and Commercial Security Monitoring Service - Startup Financial Excel Model - 5 Year

------------------------------------------------------------------------------------------------------------------------------------------------
In addition, there are accompanying tutorial videos, attached to each Excel model, to assist the user in completing the model.
This Best Practice includes
13 Excel Templates, 6 Tutorial Videos
Acquire business license for $249.00
Add to cart
Add to bookmarks