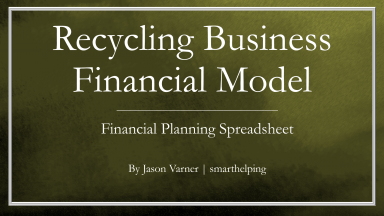 Recycling Business - 10 Year Financial Excel Model
Specific revenue and expense logic designed for recycling used goods and selling them for a profit.
Acquire business license for $40.00
Add to cart
Add to bookmarks
Further information
Project the finances of a recycling business with bottom up logic.
A situation where you are acquiring used materials and re-selling/re-making them into something to sell.
A business that does not re-sell used materials.