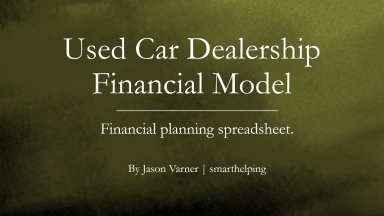 Used Car Dealership - 5 Year Pro-Forma Excel Financial Model
A bottom up financial model to forecast the revenue, expenses, and cash flows of a used car dealership startup. Includes 3-statement model and cap table.
Acquire business license for $45.00
Add to cart
Add to bookmarks
Further information
Provide a cash flow forecast and performance summaries to the user.
When doing projections for a used car dealership startup.
Non margin based business models.