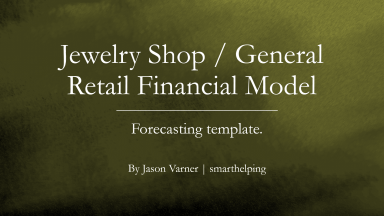 Retail Industry: 5-Year Financial Excel Model
To forecast financial projections within any type of retail industry that sells various skus. Tailored to a jewelry shop. Includes 3-statement model.

by Jason Varner
smarthelping.com - Financial Modeling for Everyone
Follow 151
1,662 views
|
2 comments
|
Bookmark
Add to cart - $125.00
Description
Latest update: Fully interconnected financial statements (monthly and annual IS/BS/CF) and a cap table was also added as well as a capex schedule and improved global control assumptions/exit assumptions.


This financial model is a template for selling anything in the retail industry. The figures in the template are for a Jewelry store that has multiple categories with multiple types of products in each category. You can re-name those to whatever categories fit your retail business. The point was to show the type of functionality this build is capable of and you can then apply it to any business that sells various product lines.

The assumption logic below will explain how revenues and expenses are populated per various inputs.

Each sub-category allows you to have a low/mid/high pricing tier and you can determine the % of sales coming from each pricing level. The reason that was done is so that you can generalize the sub-categories to get a better feel for the true average revenues coming in.

Every sub-category allows you to pick the month within the 5 years that it is planned to start selling, the count of sales per month by year, and the average sale price per low/mid/high. Switches have also been implemented to globally turn on or off a given sub-category.

There are 8 high level categories with a total of 55 sub-categories. And, each sub-category can be broken further down into 3 pricing tiers.

You then have a cost of goods sold assumption tab. This allows you to put a cost to each pricing level of each sub-category. The model automatically populates in the derived gross margin of each product line.

You then have a running, variable, and capex tab. This includes variables % expenses such as a franchise fee and sales tax rate. You can adjust the month a given running expense starts and the monthly amount by year.

There is a startup cost section as well as a loan that dynamically flows through all relevant areas in the financial overview sections and monthly/annual P&L.

Based on all these various assumptions, you will automatically see the monthly P&L populate and this shows all revenues from each sub-category, the sales count for each, the cost for each, and on based on low/mid/high level pricing tiers. The gross profit then populates based on the sub-totals of those calculations.

You then have the rest of the assumptions poulating all relevant fields and we eventually get down to EBITDA and then a cash flow figure (leveraged / unleveraged).

The reporting allows for you to adjust various variables globally. This means you set the base assumptions and then from one easy drop-down you can adjust all those variables to be Low, Base, or High. Variables include price and sales count. You can also adjust the magnitude of change between what Low and High mean relative to the base assumptions.

There are then some nice charts and graphs as well as a derived capital requirement, IRR, total cash returned and a net cash buffer/deficit per all the assumptions.

Summary tabs include:

1. Overview: 5 year annual high level summary of key performance metrics (Revenue, COGS, running costs, EBITDA, capex, debt service, cash flow) Also, this tab shows a lot of figures per high level category and by pricing tiers, such as units sold per category. This is a bit like a key performance indicator dashboard.

2. Returns: IRR, Cash Requirement, Cash Return, Total ROI, Annualized ROI (%/$).

3. Discounted Cash Flow Valuation: Includes various exit valuation methods.

4. Break Even: Shows the amount of annual revenue needed to break even each year based on the total variable costs and fixed costs (also shows the amount of months needed to break even (leveraged / non-leveraged).

Instruction tab (text), index tab (descriptions of each tab), and instructional video are all included.
This Best Practice includes
1 Excel template and 1 tutorial video
Acquire business license for $125.00
Add to cart
Add to bookmarks
Further information
Allow the user to build a case for a business that sells retail products to consumers.
When there are no more than 8 high level categories and no more than 55 sub-categories.