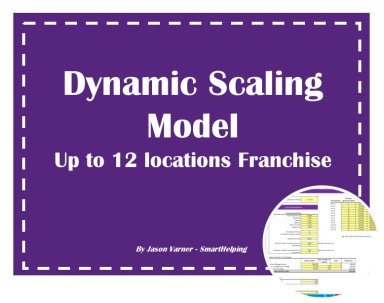 Dynamic Scaling Model - Up to a 12 Location Franchise
A highly dynamic financial model related to opening up franchise locations over time.

by Jason Varner
smarthelping.com - Financial Modeling for Everyone
Follow 149
108 views
|
2 comments
|
Bookmark
Add to cart - $75.00
Description
If you are looking to develop land and build franchise locations, this template will be of assistance. The model is completely dynamic with assumptions for all major variables. Also, there are granular structures so you can see the cash flow effects of a scaling plan that meets your goals and cash flow capabilities.

The model runs based on a few timing assumptions. They include an entry input for the month the franchise agreement (FA) gets signed, the month development starts after that FA is signed, and the month revenue starts. These are all relative to the FA signing month.

There are slots for up to 12 locations. You can have them building up over the course of 10 years and that can happen as quick or slow as you want.

Some of the key features include inputs for the amount of debt and equity used for each new location startup. This means you have a separate debt schedule for each new franchise unit. The debt has a structure defined as 12 months of interest only and then that accrues. At month 13, a p+i loan commences based on the total initial debt plus interest accrual.

The dynamic nature of the model really shines with the debt structures because you get a really good idea of the cash flow needs based on what is coming in from existing locations against the amount of debt financing/new development and franchise fees. To get this granularity, the model was built on a monthly basis, which then rolls up into an annual pro forma.

Another nice thing about this franchise financial model is the fact that you can control all the assumptions from a single tab. The main inputs include all logic about development costs, months for major events in the franchise life cycle, revenue growth and stabilization variables, variable and fixed costs, and revenue assumptions.

For revenue, the model was designed to fit nearly any kind of franchise and the most usable logic for that is to allow for a daily sale amount to be entered and an average ticket price. Based on those things, there is a starting annualized revenue figure. That figure then grows at the defined annual rate for that given location until the stabilization month that you input.

The most important variables that are most likely to change from one franchise location to the next have been made granular to do just that. Variable that are on a per location basis include: Start month, franchise fee, development costs, occupancy, revenue logic, growth, and stabilization month.

To make the model more fluid, the other primary variables were made to apply across the board. They include variable costs (direct percentage of revenue) for cost of goods sold, marketing, repairs, supplies, bank/cc fees, and royalty fees. Also, each location will be defined by the same labor logic. This assumes you are modeling each location with a similar count of employees and fixed costs. And, finally the traditional p+i loan term and annual interest rate. The interest only rate is defined in a separate location, but also applies to all units.

Cash flow return logic was built to show the resulting ROI and IRR as well as a visual chart to show cash flow. One of the nice strategies that results from such a model is the ability to see when the endeavor starts to create more cash flow than is needed for development.
This Best Practice includes
1 Excel template and 1 tutorial video
Acquire business license for $75.00
Add to cart
Add to bookmarks
Further information
Plan out the cash flow needs and financial performance of a 12 location franchise endeavor.
When you are trying to scale more than 12 locations.