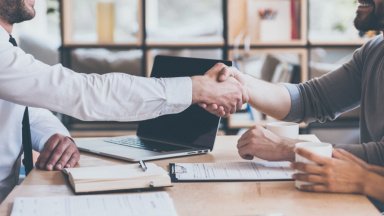 How to Close Deals Without Coming Off as Salesy
Tips to having a more positive long run relationship with customers, instilling trust rather than sales into your brand.
Introduction
The title "salesperson" has a pretty stereotypical connotation to it. We tend to envision the fast-talking hot shots that'll do anything to close in a cutthroat, dog-eat-dog world. It's a picture that's reminiscent of the Glengarry Glen Ross or Wolf of Wall Street characters we've seen, intoxicated by the high-stakes, high-reward environment. While this is what we think sales might be, most people in the industry know that's not the case.

The world of sales is changing drastically. More than ever, consumers have access to an unlimited amount of information, including social media, online reviews and word of mouth. This transparency is making sales more honest as we focus less on "tricking" people and more on building relationships. Despite how much pressure we have to get the deal done yesterday, the sales process has actually gotten a lot easier -- all you need is a few adjustments to your approach.
Step n°1 |

Play the long game.

Any successful salesperson can tell you that this is a patient person's game. Long gone are the days of "sign now and I'll throw in the air freshener on the house" as consumers have better access to information as well as where your competitors currently stand. Nowadays shoppers take more time making decisions, which means your sales approach should follow suit.


The key is quality over quantity. I personally would rather have one person who spends $100 at a store than try my hardest to get 10 people to spend $10 at a store. Why? Because the $100 person has already pledged their brand allegiance to me. This means they're going to engage with me more on social media, tell their friends about my product and continue to put me at the top of their funnel.


A couple of years ago The Wall Street Journal conducted a study on how the slower someone shops, the more likely they're willing to spend. This is because consumers feel more engaged in a brand as it feels they're truly being taken care of. This provides an opportunity for people to learn your story, mission and what separates you from the competition. Remember, this is about building a community, not customers, so take the time to develop genuine relationships.
add_shopping_cartContinue reading for free (70% left)