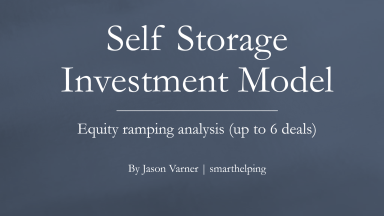 Self Storage Equity Ramping through Multiple Funds: Excel Financial Model
Self storage investment analysis for up to 6 separate joint ventures displayed individually and in aggregate for LP/GP.
Acquire business license for $45.00
Add to cart
Add to bookmarks
Further information
Plan out equity requirements as an investor or sponsor through multiple self storage real estate deals.
For self storage and 1-6 joint ventures held over the course of 15 years in total.
Greater than 15 year timeline in total.