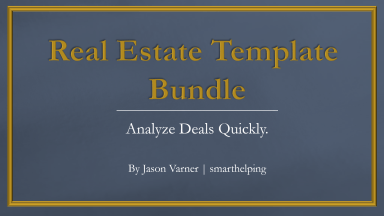 The Complete Real Estate Bundle
This Real Estate bundle contains all sorts of investment modeling for property acquisition, operation, and exiting. There are also some personal finance tools.

by Jason Varner
smarthelping.com - Financial Modeling for Everyone
Follow 155
387 views
|
5 comments
|
Bookmark
Add to cart - $295.00
Description
Updated November 6th, 2022


This Complete Real Estate bundle contains a range of commercial and residential property-related real estate Excel tools and models.

Airbnb Arbitrage Model - Lets the user plan out the operationg of sub-letting leased properties on sites like Airbnb and Vrbo. You would make the margin between leasing / cleaning / other expenses against the booking revenues. Configuration for seasonality and occupancy rates included.


Hotel Financial Model - Complete debt / equity financing assumptions. Everything is driven off a monthly basis. Revenue includes seasonality (room rate / occupancy drivers). There are dynamic staffing assumptions and two options for joint venture structures or none at all. Everything is easy to toggle depnding on the structure.

Assisted Living Facility - Plan out all aspects of acquring / developing an assisted living facility / care home / nursing home. This template inculdes three statement model logic, DCF analysis, IRR/NPV, and revenue assumptions specific to this type of industry. There are multiple room types and 'tiers of care'  for each type in order to come to a final starting monthly rent per room.

Seller financing template - Newly added and lets the user model out a seller financed transaction to show the initial investment in the asset, the sell price of that asset, the down payment form the buyer, and the loan terms for which the rest is repaid. Taxable gains logic is also applied so each portion of all principal repayments will be segregated into return of basis vs. taxable capital gain. Shows an annual summary of the amortization as well as IRR. All logic on a single tab for ease of duplication.

STR - Short-term rentals - This model is great for anyone that wants to plan out a single property or up to 20 properties that will be rented out in periods of less than 12 months at a time. Dynamic seasonality logic was built in and each property has its own assumptions for all relevant acquisition costs, debt/refi, renovation period if needed, rent, expenses, and sales proceeds. Goes for up to 15 years with monthly and annual summaries.

Mobile Home Park / RV park acquisition model - Allows the user to plan out investments in up to 40 parks over time. Includes Income Statement, Balance Sheet, Cash Flow Statement, depreciation logic, and logic for debt / refi / exit / operating assumptions and proper initial cost (equity/debt) breakdowns. Easily drive high level levers regarding refinance timing, interest only periods, and LTV assumptions. Includes up to three types of joint venture cash flow waterfalls that can all be analyzed at the same time (preferred equity, preferred return, and general 3 IRR hurdle. Also, includes 'other income' module per park. Recently updated this with logic to account for park-owned homes.

Unit Based Real Estate Acquisition - Best for smaller acquisitions with up to 10 units. Define initial purchase cost/closing costs, rent per square foot (annual) per unit, and expected length of time until rent increase as well as stabilized rent increase. Includes a joint venture waterfall and visuals. Includes exit cap as well. Runs for up to 20 years monthly and annual.

Value-add Real estate calculator - This is a single tab workbook that lets the user put in assumptions about an existing multi-family/apartment complex or general piece of property that has multiple unit types and then plan out renovations for the various unit types, plan out rent increases, and the new cap rate based on the new net operating income.

Self Storage - A equity only investment planner that models out what it would be like to scale into 6 funds over time (each with their own exit assumptions) and all of this is spread on the same timeline, while the cash flow waterfalls are all on their separate schedules and include separate IRR hurdles / GP/LP assumptions. The idea is to plan out the minimum capital you need to get into these deals and how much you can grow over time (up to 15 years).

- Mixed-Use Real Estate - Up to 7 uses and options for leverage and joint venture. Debt can be based on up to 3 facility types (interest-only accrual or payments, p+i, refi) Each 'use' has a separate NOI that flows into an aggregate for separate potential exit values. Recently updated with option to finance a portion of the development and/or acquisition costs.

- Two preferred equity templates - The first is based on achieving an equity multiple and the second is based on a preferred return value and has options for a kicker as well as a secondary common equity waterfall with its own IRR hurdles.

- Real estate development - has a budget and actual for on-going comparison. Easy data entry and advanced calculations to show equity requirements, cash flow, and resulting IRR/ROI of the entire project.

- Preferred Return template - Goes up to 10 years and allows for the accrual of any shortfalls. I tried to allow for one to adjust the logic easily depending on what kind of deal is being modeled.

- The Real Estate Investment Trust – 20 Year Financial Model:
This model is constructed using capital deployment over a 4-year timespan. The auto-filled net operating income is linked to the total capital employed each year. The financial model produces the cumulative effect of the cash flows and an IRR (Internal Rate of Return)/NPV (Net Present Value) of the case.

- 10-Year Multifamily Joint Venture Excel Real Estate Model with Refi Logic:
Recently updated to analyze up to 4 properties at once. This Excel spreadsheet real estate model is to be used to estimate future cash flows to the sponsors and investors. The pro forma ties everything up and divides all the cash in a series of summaries that include:
- net income from operations
- cash flow from refinance
- cash flow from exit
- the final cash splits for the investor pool and sponsor pool
Other key features: dynamic exit and refi year adjustments, investor splits, ROI to date and annualized ROI, accumulated cash position, and exit cap rates
https://www.eloquens.com/tool/LGlAUdaL/finance/real-estate/10-year-joint-venture-excel-real-estate-model-with-refi-logic

- Excel Calculator: Full Loan Pay Off or Invest it All
This tool perfectly compliments the Loan Payback Optimizer. It enables the user to compare the outcomes of paying off loans as soon as possible or investing the money instead.

- Budget to Buy a Home: Excel Tool
This template is the perfect tool for anybody saving to buy a new home. It contains the expected monthly income, taxes and living expenses. This allows the user to calculate the net cash flow that can be put towards saving for the house each month.

- Real Estate Brokerage
The first actual business operating model I have done for real estate. All of these other financial models were built for rent producing properties, but this model was built to help the operator of a brokerage forecast cash flow / performance of running their own firm.

These tools combined will give the user a thorough financial oversight into their real estate investment plans.
This Best Practice includes
19 Excel Templates, Tutorial Videos
Acquire business license for $295.00
Add to cart
Add to bookmarks
Further information
Run investment analysis on a wide range of real estate classes.